The Map of Our Garden
Poetry by Rebecca Schumejda
Becky uses her family's garden as a metaphor for the joys and disappointments, the bounty and the havoc inherent in marriage and parenthood. Most of all, she does it in a way that is new and fresh.
One of my favorite books of poetry by any author, The Map of Our Garden is a gift. Rebecca wastes no words as her poems take root, growing lush and vivid inside the heart and imagination of the reader running barefoot through her verse.
There are no "precise measurements" in this collection. The poems surge with the energy of the heart, tending to its beating life. These are almost perfect poems. They tip and wobble, as does the earth on its axis, in the struggle to stay in orderly rows. The spin of power comes from Schumejda's observant mind, dealing with family and love and friendship. She brings a unique voice whose words loom large as crows watching over the garden, amazed by what they have seen. I am amazed, too!
More reviews below!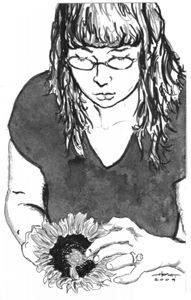 Rebecca Schumejda
is the author of Falling Forward published by sunnyoutside press in 2009, Dream Big, Work Harder in 2006 and the postcard poem "Logic.". Her first chap-book The Tear Duct of the Storm was published by Green Bean Press in 2001. She earned degrees from SUNY New Paltz and San Francisco State University. She lives, teaches, and writes in New York's Hudson Valley. You can find out more at
RebeccaSchumejda.com
.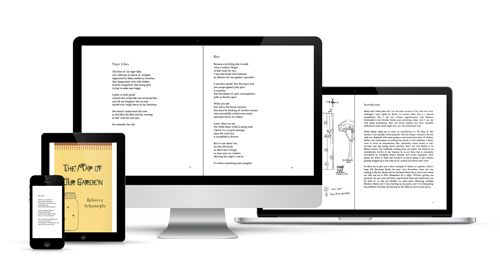 Rebecca Schumejda writes with the precision of a surgeon; every line necessary and exact. But the poems that make up The Map of Our Garden are far from cold. They are warm as freshly dug earth in a garden beneath the afternoon sunlight. They interweave to chronicle the ongoing struggle of coming to terms with nature, family and the self. The poems are quietly harrowing and sometimes heartbreaking, but always exquisite.
Rebecca Schumejda's The Map of Our Garden is a lively collection, full of insight and telling detail. These are nature poems–garden poems–amped up with blunt revelations about family and parenthood that will echo long after you've put the book down and cared for your own family. With this poetry close at hand, everything will go more easily.