Hoofin' It, originally uploaded by Katford.
all hooves and diligence
no matter my
stillness,
i am always awake
with loving him:
the blood,
ephedrine,
the purposeful
breaths;
where horses go
unbridled
and race to their
deaths;
all hooves
and diligence,
steam rising
from their
bodies.
---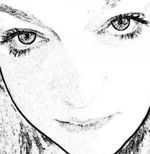 Miriam Matzeder is from Kansas City, Missouri, where she's been writing since she was an awkward adolescent. Nothing much has changed.