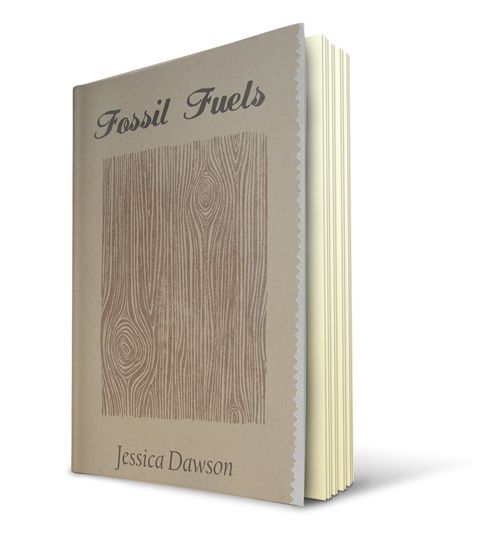 Fossil Fuels
Poetry by Jessica Dawson
Originally published by Verve Bath Press in a limited print run, Fossil Fuels is Jessica Dawson's first collection of poetry. Introduced by her husband in a sweet and cynical tribute, the book captures the intimate lyrical confessions of a writer who seems unsure of the value of her confession, while at the same time certain that she must put them to paper, no matter. Now available for Kindle or in PDF form for e-readers, its charm has transferred beautifully in digital format.
Opening with a marriage proposal that is immediately rescinded, Fossil Fuels draws the reader in with its playful irony and imaginative language. The irony, however, is quickly stripped away as we are taught "Lessons in Fickleness and Erratic Behavior," and has all but disappeared by the time we learn "There Is No Substitute for Patience." What we are left with is bold, direct, and unapologetic. Halfway between folding/and taking over/the whole goddamn world, Jessica explores her hopes and fears with vivid imagery and storytelling that is relatable to all of us. Challenging archetypes, she chisel[s] down/to the basest versions of ourselves. With a strong, yet tender voice, soft as footprints even in the vinyl unease of the landscape, she assuages our fears and allows us to wonder what it would be like if hummingbirds/were the size of dogs—makes us believe that we're all…substitute stars.
More reviews below!
Jessica Dawson is a modern-day Wendy. She lives in California with Peter Pan, a baby bear and a future supreme court justice. She's ecstatic to see her first book of poetry now e-published by Verve Bath Press/ Words Dance.
She has had poems published in Thunder Sandwich, The Hold, Passenger May, killpoet, Words Dance, remark., The Seed, MEAT, Triptyph Haiku, Lit Vision, Mastodon Dentist, Nefarious Ballerina, The Montucky Review, Red Fez and Slurve Magazine.
Influenced by Richard Brautigan, William Carlos Williams, Rumi, and a desire to never be try to be Sylvia Plath, Jessica Dawson's writing is a lyrical confessional. She abhors self-promotion but requires an audience at all times. She reads the dictionary for fun, speaks only in degrees of sarcasm and enjoys owning her children in Scrabble.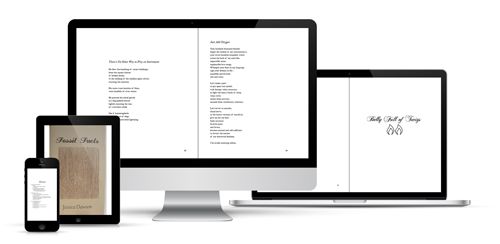 Jessica Dawson's opening line in the opening poem in Fossil Fuels is, "Dear Sir,/Let's get married." It is a playful beginning to a collection that is rough, sweet, funny, challenging, open and, best of all, written with wit and daring, straight from the heart. Dawson does not quail at the difficult subjects, the troublesome emotions, the "hard decisions," as one poem is called. She is a brave, keen writer and it shows in almost every line.
There is also a sensual warmth underneath her smooth method. "I dreamt I was an alligator/all teeth and hot, wet breath," one begins and moves through affirmation ("and I was alive") to an ending that is dramatic and carnal, a virtual celebration of consumption as an exaltation of life. In poem after poem Dawson, with sinewy lines and piquant metaphor, makes this kind of declaration work.
In "Upon Discovering my Husband's Porn Stash," she manages to be achingly human and vulnerable and still maintain the "poet's eye" distance necessary to make the poem a success. In "There's No Other Way to Play an Instrument," she says, "His notes were bunches of lilacs,/were handfuls of river stones," an oxymoronic triumph of sense and sound. That poem ends "like if hummingbirds/were the size of dogs,/or if dogs discovered lightning," which is a concluding line worthy of James Tate or Heather McHugh.
Overall, the collection delights and dances and mourns and shouts and sings and rejoices in what it is to be mortal and cerebral and receptive and observant in these difficult days. At times it is quiet and peaceful and at other times full of vigor and brilliant clamor. "Just add more oxygen" the final poem says. The reader may feel that Jessica Dawson has done that, given the air a new quality, illuminated some things that compel us to notice even the atmosphere we all swim in. This is a ravishing and enchanting chapbook.
The luxury of sparse, yet poignant, writing is not a commodity most writers get to have at their brain-tips. Fossil Fuels is just one more example of Jessica Dawson's natural tenacity for such a style. It is lush in a sparing way. Conjures up stunning and surreal imagery that is subtly imprinted with fierce emotion. You can almost feel Brautigan's ghost chuckling to Jessica's song. It's confessional, while not seeming to be. Blended in such a way to make you forget to notice what is being done to you. A culling song crafted with the sweet, sweet poison of ink. It puts you down.
But, instead of waking up with one less organ, half frozen and dazed in the oversized commode of a stranger's nightmare, you realize you've just had the enriched experience of entering someone else's realm, loving every second of it. She plays in the muck of her own sensibilities and spreads it out on the pulp of our imaginations. And that. You can't teach.
The sleek speech starts on page one with a letter/prose poem looking at the future, in the tense of Now, never once stopping till the end poem that reverts us (and her, it seems) back to spectacular base. The last five lines of the last poem are what planets are made of.
This is a book of three parts. Moveable parts that stick to the teeth and eyes. The first section, "Mouth Full of Gunpowder," is a journey in itself. The pieces moving through a universe of emotion that sorts through life's pursuit, whether it be love, the self reckoning of purpose or the outcome of snooping through your lover's porn. This section of poetry slyly reveals the skin as an undergarment, falling away in controlled fever.
The second part, "Belly Full of Twigs," fits its title. It's placed in the gut of this chap and mixes classic Jessica images with the soft tones of a moment as it's consumed. It is the surreal. Form and content collide during these pieces in the strongest section of the chapbook.
"One Good Pack of Matches," isn't catharsis. It isn't the third act of a play but it is the end. For this book at least. These poems slowly unroll the carpet to the chap's end with a growling piece that properly leaves us wanting more. On sum level, Fossil Fuels reads like an extended vignette. A distinct voice throughout while still retaining a diverse methodology in the use of form, style, organic symmetry and cosmic sensuality that is innate in Jessica Dawson's work.
So, once again, Amanda Oaks and Verve Bath Press have showcased a stellar writer. The press has a knack for finding superb artists and then going on to create a collaboration of style and substance that produces lovely items. This chap is a fine example. Fossil Fuels is a great buy and an important work for the increasingly populated landscape of small press poetry.
This is the death of dying.
So says Jessica Dawson in her poem A Response to Rumi's The Seed Market, from her poetry collection Fossil Fuels. It's an aptly fearless announcement from a book which acknowledges in both title and content the depletions we welcome and readily survive. In Rumi's poem a falcon appears for no reason, in Dawson's the proclamation is made to say more vulture than falcon, really. Words mean. It is here we are pleaded with to have purpose, be vulture.
Dawson is not afraid of gender. In her opening poem, Dear Sir, she is both addressing and blind copying the reader on the memo. In her second poem, Lessons in Fickleness and Erratic Behavior, she says and then sir, you'll be well on your way. In the same poem: Abandon fly-fishing…think about it fondly, in theory. Dawson understands the need for a line that does not choose, but accepts an additional in theory.
Many of the poems have the speaker looking upon the back of another, or imagining doing so. Lines like twenty-some years it took for his back to become a wall cast Dawson as one positioned behind things, a keeper conditioned to still them, while also understanding the necessary act of committing last things to memory. In the introduction, Brian Dawson states that 'New Confessionalism is alive and well' and I would agree and add that it is summoned, here, from the most sustaining of muscle memories.
The creativity on display in the book is thankfully not showy, but is also not hesitant. Whether Dawson is dreaming of being an alligator and calling a flamingo leg a rubber tent stake or merely waking blinking in code, breathing in diagram or calling us all volunteer rainbows, substitute stars- she is always next door, present, making of our locale a show woman's world.
The finest poem here is titled Upon Discovering My Husbands Porn Stash, not because it divorces itself from the others but because it marries if only by common law what the book has lived with long enough to say it's more the amputee ache / of my fingers / when they leave his skin / and the feeling that I'm in this alone.
I quote much here from the book and could much more because the book speaks for itself, but also to itself. Its speaker seems unsure, modest, unable to agree that any word is final. How refreshing. Here is a final clue, and last quote, from the poem A Little Ditty:
Explanations are ghosts of guilt,
shadows of sympathy, and I have no use for them.
---