Nothing Unrequited Here
Poetry by Heather Bell
Nothing Unrequited Here is a series of love poems. It expresses that without a doubt, love is not just love, but all of the dark & messy things in between.
Heather's voice is proud, unashamedly feminist and unmistakably American. This is not poetry that sits back to be appreciated and then moved on from – this is poetry that slaps you in the face and demands attention, poetry that sticks in your head like a great pop song.
Bell marries kaleidoscopic images with the familial in her unforgettable collection Nothing Unrequited Here. With honesty and faint humor, she illustrates the evolution of relationships and redefines poetry as the distance between two people. In "the Reason You Are Not A Poet," she nails the chasm of intimacy when she writes, "He says / I Love your hair in my shower. I love your hair in my shower. / You exhale and realize / he will never be a poet, but you love / the way he called / your eyes kettle drums one night, / for lack of anything else to say. The way he carved / names into his kitchen table." After taking a dip in this impressive first chapbook you will emerge, towel-less & shivering for more.
More reviews below!
Heather Bell
graduated in 2005 from Oswego State University in Oswego, NY. Since, she has been published in
Mannequin Envy, From East to West: BiCoastal Verse, Empowerment4Women, Ditch, ReadThisMagazine, Pomegranate and Killpoet
, among others. She spends her time polishing boots, gardening, painting and looking brightly at all raw stars.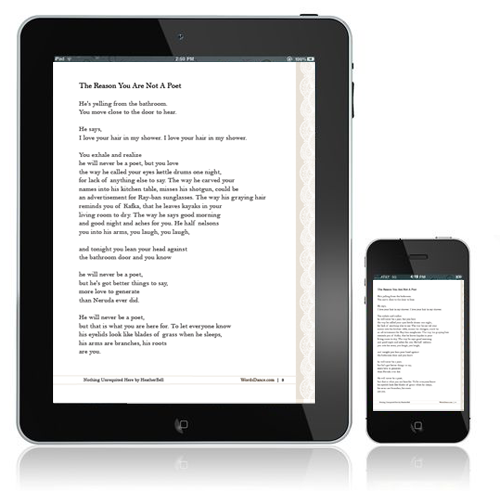 The title poem, "Nothing Unrequited Here: Nine Essays on Romanticism in Photography," speaks to the human need for, if not love, then at least meaningful companionship. But this is something present in the collection as a whole. Bell's gift—and it is one all-too-rarely seen—is an ability to convey the intricacies and intangibles present between lovers in language so original that it has no need to acknowledge that the word love, in and of itself, has lost meaning to much of the world.
If ever there were a poet to rip off, Ms. Bell is it!