(Cover Art by Jon Roueche)

Words Dance Issue 14
Fall 2013

Digital Edition : $3.99
Print Edition : $16

It's the process. It's the chase. Running down an inside revolution, footfalls on a sidewalk at night, chest heaving, heart at a full-tilt tick, the pull of the pin. The release.

The opening & closing of the shutter, five, ten, twenty times before you are at peace with the portrayal of the moment. It's capturing it on the first click. The last brush stroke sliding across the canvas. Ruled lines waiting for the warmth of your fist resting between words.

It's hitting your stride, stumbling, giving in, letting go, celebrating your victories & learning & loving yourself through your defeats.

It's the seed, the roots & the bud. It's the flowering of yourself.

It's the flow of our spirits dancing together through the seconds as they tumble off our self-imagined clocks. It's the meaning & the means to a meaningful life.
---
This is our creative courage unleashed, the moment the word YES sat on the edge of our lips, pondering, putting on her boots, standing up to spread her arms out wide only to
LET GO.
Meet the contributors: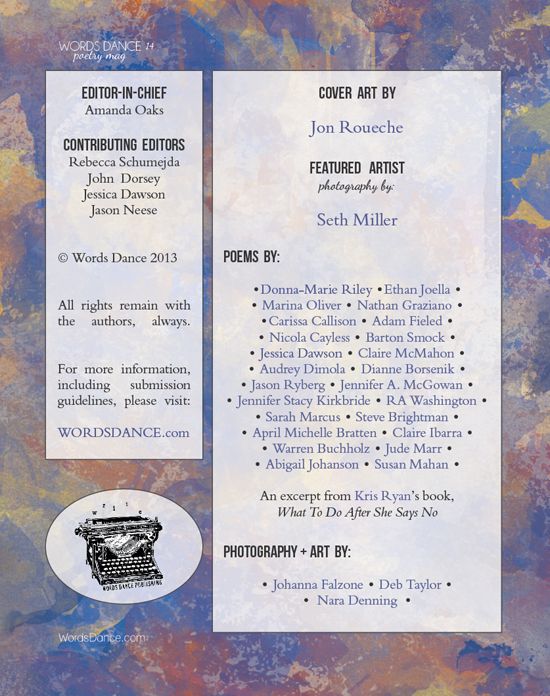 Order Print Edition here:
$16
---
Digital Edition info:
$3.99

---
***You will be checking out using PayPal, where you can use your PayPal balance, your credit card or your checking account to pay. After purchase, you will be redirected to a download page AND receive an email with a download link to download the magazine instantly. If you decide on the bundle package you will receive a zip file. You can open all of the books in your browser or in a PDF reader on your desktop. With the bundle package zip file you will have to open it on your desktop computer first, unzip on there & then email the books to yourself individually if you want to read them on your mobile device. If you only have a mobile device, please email me with your proof of purchase & I can email you the books. If you are using an iPhone/iPad/iTouch, you can download it in your email, open it in Safari, tap the screen once & you will see a "Open in iBooks" button at the top right corner of the screen. Everything is super easy & safe! If you have any questions, please don't hesitate to email me at wordsdancemag (at) gmail (dot) com!
Love,