What Tales
The old barn captured
in a sunny day-light print
the years of stories
mere hints.
The tires in the loft
four summers, one snow
the spare?
Folks must have left in winter
snow treads still mounted
Heading north out of town.
The summer treads could stay
like bathing suits in January
who could imagine a need?
Hey, were those wheels
from that Pontiac
broken down, sold "as is"
tires forgotten?
If hay could speak
What tales, what tales…
Walls lined like wrinkled brows
keeping silent
what tales.
Out in the field
her small feet earth bound
she stood and looked around
in every direction
searching.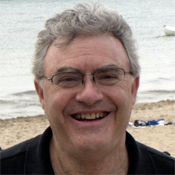 Alan S. Kleiman's poetry has appeared or is forthcoming in Verse Wisconsin, The Criterion, Fringe, The Bicycle Review, Pyrta, Eskimo Pie, and The Montucky Review. His chapbook, Grand Slam, is forthcoming in 2012 from Crisis Chronicles Press.