THE LIGHT
In this patch of sunlight
she writes
and wants
and waits
for something that will not come.
Steam rises
from the cold, wet grass
a single droplet
lets go
of the oak leaf.
It does not matter
what happened yesterday
or even a moment ago
The trees do not remember.
They do not
wait either, as she
does now.
They know
this full moment
is all
there is
That within it
rests
the Sun.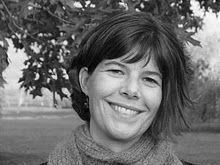 During the small windows of time when her two little girls are occupied elsewhere, Julia paints and writes and contemplates the deep questions of life. More than anything she wants to sprinkle some good around in this world and is always looking for ways to do more of that. If you'd like to join her on this path of shedding & opening and living from a place of truth and authenticity, please visit her at paintedpath.org, she'd so love to have you there.