Crushed Lily
The crushed lily, cradled in my daughter's hands,
proves there's beauty in the folds of our faults.
She spreads back petals and examines the inside;
Focus, flip then fold as if a paper fortune teller
or as pre-teen girls call them coochie catchers.
Ask me a question, I tell her, pick a number, lift the flap.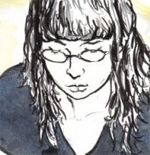 Rebecca Schumejda is the author of Falling Forward, a full-length collection of poems (sunnyoutside, 2009); The Map of Our Garden (verve bath, 2009); Dream Big Work Harder (sunnyoutside press 2006); The Tear Duct of the Storm (Green Bean Press, 2001); and the poem "Logic" on a postcard (sunnyoutside). She received her MA in Poetics and Creative Writing from San Francisco State University and her BA in English and Creative Writing from SUNY New Paltz. She resides in New York's Hudson Valley and online at rebeccaschumejda.com. Her book, Cadillac Men, is forthcoming from NYQ Books.