Four Ballerinas Resting Between Scenes
This is the part of the song
where he sings it's a little
unclear and I can't focus
on anything except to push
the headphones deeper
until I find myself staring
at a calendar painting of Degas'
ballerinas, time caught in strokes of blue
yellow fighting for attention
a naked shoulder, a shadow brushing
across an open back, concentrate
on the phases of the moon wrapped
in her hair, a girl's secrets do not
disturb, it's the music that makes her
vulnerable beneath her costume
a guitar climbing up her thigh
she can't make it loud enough
but remember this isn't art just
a calendar tacked to a cubicle wall
where everything fits neatly inside
black and white boxes of days
spent waiting between scenes.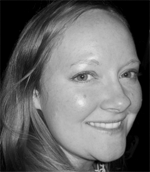 Tammy F. Brewer is married to the poet, Robert Lee Brewer, and is mom to 2 sons, 2 stepsons & a daughter. She received her BA in English from Georgia State University in 1997. She was born, raised, and still resides in Atlanta, GA where she works as a paralegal.
*poem first appeared in Words Dance #11